Nylon Cord
Genuine Japanese quality seeking
for the advanced safety & performance.
We can provide our customers advanced safety and performance.
For the material of nylon cord and of sub materials as well, we are thoroughly using made in Japan products. And we are producing all of our products at our own factory in Japan. We can deliver reassurance & safety with high quality nylon cords created by our commitment.
Product information
Nylon Cord

By using carefully selected material, we are producing a variety of shape & size, and depending on your request we can supply from 0.2M to 500M in length respectively and by a variety of package.
And further, special type of nylon cord(Metallic mix cord/Walnut mix cord/Granite mix cord etc.) which has got the carefully selected sub material are available.
Cutter Head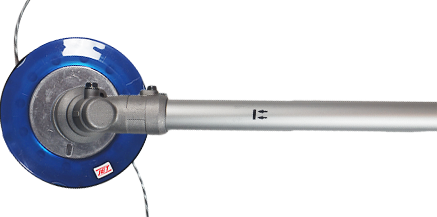 For the use of Nylon Cord with Brush Cutter, mounting equipment(called as 'cutter head') is required.
The diameter of mounting part of all of CAL's Cutter Head is equivalent to the diameter of the mounting part of ordinary brush cutter in the market, then you can fix all of our cutter head to any brush cutter in the market.
product search
by material